Posted by ClosetCat in Cathy.
Tags: gift guide, Yoga
1 comment so far
After I read Lara's post on yoga mats, I couldn't help but expand into a yoga inspired gift guide.
Starting with these yoga cookies…
To me the perfect yoga pant. Fitting at the top but loose all the way down the leg.
If you'd prefer to take lessons at home, try out these weekly posted videos by Rodney Yee and Colleen Saidman. It's $5 a week and purchased in 13 week installments. It seems like a fun gift to give a do-it-yourself possible yogi.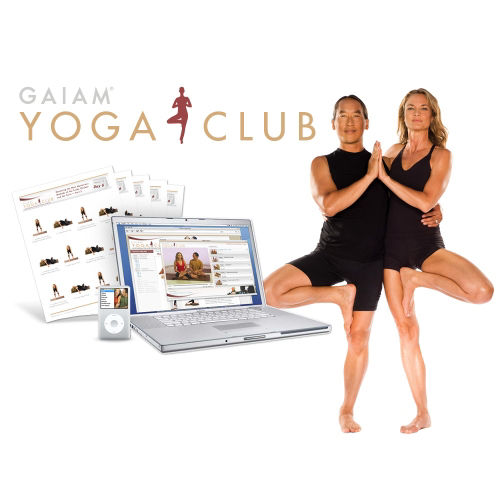 And I've got to ask, has anyone tried these yoga classes with their pets?
http://www.nytimes.com/2009/04/09/fashion/09fitness.html?_r=2&scp=1&sq=doga&st=cse
Posted by ClosetCat in Lara.
Tags: 24 Hour Fitness, Big 5, Gaiam, Wai Lana, Yoga
3 comments
How was everyone's Thanksgiving?  Good I hope.  I know I spent mine with family and loved ones all day way into the early morning hours.  It was good times to say the least.  But we all know what comes with Thanksgiving parties – the extra thanksgiving pounds.  Eeek.  I know I ate my fair share, so hitting the gym today was definitely on my to do list.  So today my best friend and I put our new gym memberships to good use.  Every Monday our local 24 Hour Fitness has yoga class from 5:30-6:30.  So my best friend, brother, and I went to go get our yoga on.  But prior to that, after eating lunch with the bff, we decided it would be in our best interest to buy our own yoga mats, seeing as how we will be attending the class every week and it just seems more sanitary for us to bring our own rather than use the gym provided ones.  I mean, you're all up on those mats, who knows what its been through!  So we went to the sporting good store and bought our own mats 🙂  A sound investment.  Plus its more of a reason for us to HAVE to go now, since we've invested in it.  We bought basic blue mats, they were on sale for only $12.99.
But after going online and doing a little google search, I found some amazingly cute mats, who says you have to be plain while finding your center?
Here's to not letting the holidays weigh us down (literally!)
♥Lara